Well if you don't know by now, I LOVE me some Salsa.  It's one of those dances that I can just be free and let it all go.  I give up control.  In this dance I have to.  The man is supposed to lead.  All of my trust goes to him.  Exciting.
I got lucky and found a New Year's Day Salsa party over in Arlington, VA.  I don't venture over to VA much (hardly ever).  Most of my fun is in the DC, MD area.  If it's Metro accessible then it's all good.  My luck continues because this place is two blocks from the Metro station.  Sweet!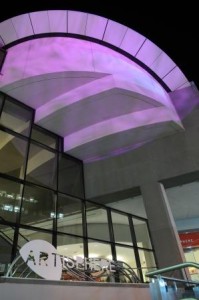 The Artisphere Cultural Center in Arlington, VA hosted this year's Revolution Jam which is an annual Salsa party to kick off the New Year.  I…Had…A…BLAST!  Now mind you, it's been over a year since I've danced Salsa.  MAN was I rusty.  Lol.  I still have the basics down so it's all gravy.
There are a few places I can go to brush up on my Salsa skills.  I'm already a part of a few Meetup.com groups so I'll look into those.  I'll get my skills back in no time.  🙂  I want to make this a regular thing…me dancing Salsa.  I feel great when I do it.  Plus it's a fantastic workout.  What better way to keep it sexy, yeah?
Is there any style of dance that you like?
Would you want to take up Salsa?
If you're in the DC Metro area hit me up!