I'm asking. Do you have anything planned? Anything that you are just so excited about that you are watching the clock?
I do!
I have a date . . . with SALSA!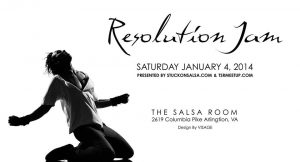 It's the annual Resolution Jam hosted by the Stuck On Salsa crew here in the DMV area. This year it's being held at The Salsa Room in Arlington, VA. It's the first big party of the year. I am SO going to be there!
This is my opportunity to rekindle my love affair with Salsa. I neglected it for a while. Life, you know? Now I'm ready to jump back in. Slowly, of course. To get to an acceptable dance level takes time. It takes patience. Most of all it takes PRACTICE. I have plans for that as well.
For now I'm going to enjoy my day long date with Salsa this Saturday. Workshops and a night of dancing. What more can a girl ask for?