Originally posted on 28 September, 2009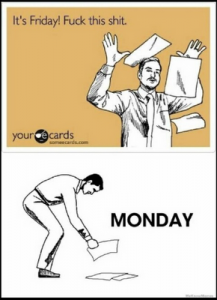 It's Monday!
No case of the Mondays here! Lol. I used to despise Mondays back in the day. Not so much anymore. It's just a day…and so misunderstood. If you don't like Mondays you most likely don't like what you have to DO on Mondays. For most folks it is their job. They are not doing what they love and/or enjoy. That can put a damper on ones day.
I'm taking care of a few things that came through during the weekend. Since I wasn't feeling too hot for the weekend I kind of put things work related on hold until today. No big thing there. That's the kind of business I would prefer anyway…work on weekdays and have the weekends off to play. :0) I like to play! Lol.
There are a few more things that I need to catch up on today. There is some follow up that needs to be done. I will get to that soon. There is also some material that I can look through. Lots to do…lots to do. I don't mind one little bit! :0)
Putting an End to this Day!
Pretty jam packed day for me. I took care of some software installs on my laptop. I have one more program to stick on there but it wasn't mission critical so it can wait. Took care of some details with my business…went into the office and knocked those out. I should have some pretty satisfied clients. I continued on with my part time search…put in for a few positions…all of them art related. We'll see how those go…we're hoping is what we're doing…and a lot. 😀
I went and chilled at a lake (more like a small pond) and ate my craving at that moment. For some reason I wanted Chipotle. I have no idea why but that was my craving and I went for it. I ended up getting a bowl – I can no longer finish a whole burrito – and only ate about an eighth of it. I seriously cannot eat the way that I used to…which is fine by me. That's how I got to be 40 pounds overweight in the first place. Oh man I HATED IT!!!
My weight gain was a BIG factor in how I felt about myself. My self esteem was non-existent. I didn't know how to handle the extra weight and where it went. I was always tired and out of breath. This was NOT the slim athletic girl of my past. Yeah…I HATED IT!!! Now I'm 25 pounds lighter and feeling SO much better about myself. I still have some weight to go but my confidence is coming back…and I'm loving it!
I digress.
After the lake I came back home and read my book. I'm reading the Women's Murder Club series from James Patterson. It's good. I just finished the 5th book in the series. It took me three months to read it due to life happening but I got it done! There was an urgency with me getting it read quickly…the book is overdue at the library. I REALLY have to take it back and pay my fines. It's been YEARS since I've had an overdue book. Oh well. I had to finish the book before I returned it. Lol.
Now I'm mellowing out before I hit the sack. All in all a very good day. See…Mondays can be good too!
Until next time…