Originally posted 23 September, 2009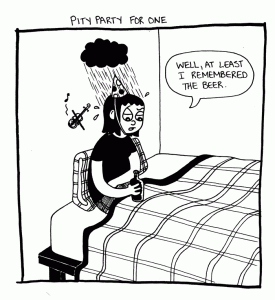 I woke up this morning feeling not so good. I also had some horrible dreams. Not sure what's up with that…I've been having them for some time now. Anyway me not feeling so hot inhibited me from going into the office this morning. This is only the second time that I have missed a sales meeting at my office. The first time was because I was throwing myself a pity party – party of one – and I didn't feel like being bothered. I don't like it when I miss my sales meetings. They are my motivation for the week…at least for my business. I need those sales meetings and the people that attend them.
This brings up a really good question. Why did the hell did I get into sales? I was never good at it. Never. I tried three network marketing companies. Well actually I only tried two. The third I never really tried as a business…I just used their products because I love them so much. None of these businesses worked for me because I could not convince anyone to buy the products. I have no idea what made me think my current business was any different.
I'm currently looking for some part time work to A) supplement my income and B) get me out of the house. Having a home based business is a great thing until you develop cabin fever and get sick of your surroundings. That's never good…especially if it's your own place. You should never get sick of your own place. So part time work should help me out…hopefully. We'll see. Let's hope I find something soon.
*Image compliments of http://eclipseoftheheartgirl.blogspot.com/2010/06/pityparty-of-one.html*