Originally posted on 22 September, 2009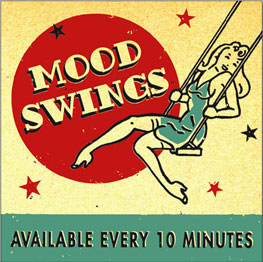 I did make it to the gym today. It was a decent workout…did lower body and abs today. Oh my legs are going to be hurting! Before the gym though I had a conversation with someone special in my life. That conversation placed me in a cloudy mood. It was like the answers that I was giving were not good enough and I got very frustrated. After my workout it was kind of hard for me to get on with my day. Yes I can be a very moody woman.
This is one of the things that I would like to change about me. I mean being moody is OK…just not ALL THE TIME! I am more moody when things are irritating the crap out of me or I am not happy with a situation or person. I think I just described a few other women out there. 🙂 I still would like to change how often I get my moods. Working on it.
A new movie came out today I believe. It's the one with Matthew McCaunahey(sp) and Jennifer Garner…the exgirlfriends of past movie. I may go to the Redbox and check that out tonight. I deserve a movie night. 🙂
I'm going to get me something to eat now.
————————————————-
Just finished the Ghosts of Girlfriends Past with hottie Matthew what's his nuts and Jennifer Affleck…lol. It was pretty good. I enjoyed it. It was worth waiting for it to come to DVD. I crush on Redbox…you can't beat $1. 🙂
Still haven't finished my vision board but I did pick up the push pins. All I need to do is print off a few pics of me and I'm ready to go. I will have this board done soon damn it!!!
I'm going to turn in now. I have a funny feeling that I am going to be pretty sore tomorrow.
*Awesome image compliments of http://www.meccamedical.com/chiropractic-and-mood-swings*