Originally posted on 21 September, 2009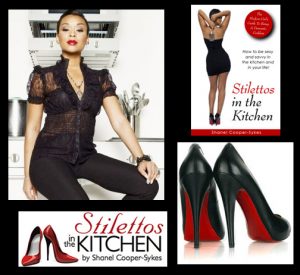 It was Saturday, the 18th of July. I was messing around on Facebook when I came across this video posted by a photographer friend of mine. It was titled "All Men Are NOT Dogs". I thought the title was interesting and decided to check it out. While watching the video I visibly and audibly agreed with what this woman was saying. After viewing this video I decided to check on this woman to see who she was. Her name is Shanel Cooper-Sykes and she resides in NYC. Her website "Stilettos in the Kitchen" looked very interesting to me and I decided right then and there to pre-order it. This was in an effort to spice up my then relationship with my then boyfriend. Who knew that relationship was going to end the very next week. Yup…over!
~Note – that relationship is one of the things that I am hung up on and unfortunately will be seen in future posts.~
Ever since I pre-ordered that book I have been catching up on Shanel's video blogs, reading excerpts from her new book, and attending her tele-seminars. Very inspirational let me tell you! Shanel strives to teach any and every woman who is willing how to be a Domestic Goddess. You see that is what got my attention for real. A Domestic Goddess is a woman who is both modern and career oriented and can still take care of home and her man with ease. She's a CEO in the business world and 'Big Mama' at home who can handle ALL duties without breaking a nail. And she can burn! OF COURSE this appealed to me. I wanted to be anything and everything for my man. Well now I can work towards that now…for my new man and only when I am ready for him.
Firsts things first…I have to get myself together. I can't take care of the man of my dreams if I am a hot mess! Oh no! Love me first then I can love someone else. That's the plan my friends. 😀
What I'm doing now…working on my vision board. It's a cork board that I have that I will be posting my wants in life on. Several affirmations will be there as well to keep me upbeat and motivated. The cool thing about this project is that the wants are actual pictures. I will be seeing them everyday so I can work towards them everyday. I hope to have this done tonight. I'll need some inspiration when I wake up in the morning. :0)
Well I'm going to get back to my vision board. Until next time…
——————————————————-
Posted the same day…night actually. Lol.
So I have all of my images ready to go for my vision board, right? I've got my affirmations all thought out and printed out. I decided to use the web to find everything instead of buying magazines and cutting out photos. Smart, eh? Anyway I have everything laid out and ready to go. What am I missing? The freaking pins or tacks! Ugh! Let's just say that I will be doing this again tomorrow once I hit the store.