Originally Posted: 21 September, 2009
Ok. I am actually doing this…blogging my most inner being amongst a bunch of strangers. Well isn't that the 'to do' thing nowadays? Lol. I am doing this in an effort to turn things around for me. Let me explain…
I have been on this earth for almost 32 years. My years have been very fulfilling don't get me wrong. In my eye there is always room for improvement. Being stagnant for so long is not healthy in my eye. It will drive you insane as it has for me.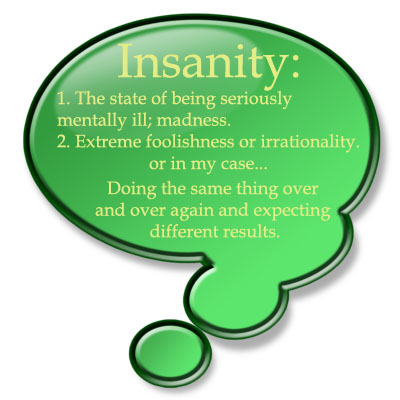 Yeah I've been doing that for SOME time now…doing the same mundane things and expecting extraordinary results. Yeah THAT didn't happen. I've always known that it wasn't going to either…but I kept doing these tasks. It stops here.
What I hope to accomplish with this blog is a MAJOR change in my mindset and my life as a whole. You can call this…therapy for me. I'm going to admit something right now. I am very messed up in the head…no kidding…for real…certifiable. The things that I post here may be disturbing, evil, pathetic, and downright ignorant sometimes. There are a lot of things that I have held onto throughout my years. I hope to release a lot of that through this blog and other avenues. We'll see what happens with that. YOU HAVE BEEN WARNED!!!
Thanks for stopping by. More posts with a little more history to follow.
🙂