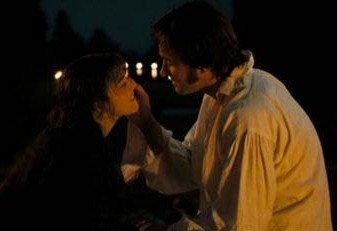 I am a huge fan of the feature film from 2005 Pride & Prejudice. Jane Austen is awesome. I am a fan of British film in general actually. One of my all time favorite films just happens to be My Fair Lady which is actually an American film set in Edwardian London. I sat and watched this film for the first time in awe in the eighth grade. I fell instantly in love with it and all things British.
Anyway, back to Pride & Prejudice.
Mrs. Darcy says something at the end of the American version of the film that really resonates with me.
…completely, and perfectly, and incandescently happy.
What this means to me? To positively glow in bliss and passion. Fully…and without abandon. This is something that I strive for on a daily basis. I do not always make it. That's the beauty of it though. I DO make it on occasion. It is a glorious feeling when I do. An enchanting site to witness as well.
I have been inspired lately by something that I am not too comfortable in admitting just yet. It's a rekindling actually. This inspiration has been present since 2007 for me.
Truly and utterly decadent. Hmm…and that's all I'm going to say about that.