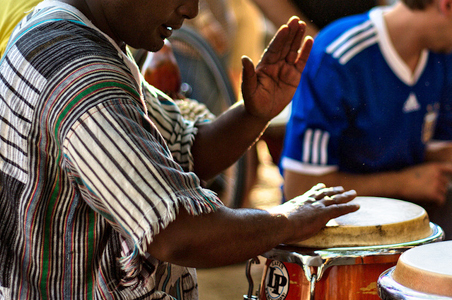 I've been hearing about Meridian Park since before I moved here to DC. I finally was able to visit this beautiful park, also known as Malcolm X park, this past Sunday afternoon. What accompanied my trip were a large number of percussionist banging away in a drum circle. A very delectable treat!
My body movement class meets every Sunday early afternoon. We decided to go on a field trip to experience the drum circle. I was, of course, excited since I LOVE drums. Plus since I've heard so much about the park my excitement was amplified.
The trip did not disappoint. The drums were on FIRE! I felt every beat. My body responded in kind. It was a wonderful experience that I originally thought occurred once a year. You can imagine my surprise and utter pleasure when I found that it's a weekly event! Chyeah!!!
I see more Sunday class field trips to the park packed with blankets, hydration, and food for satisfying noshment. It's going to be a great summer!