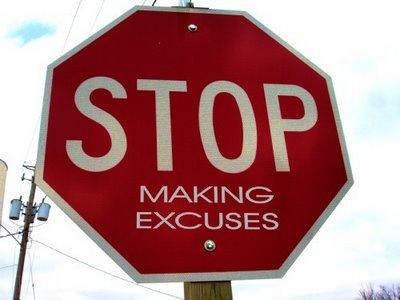 I have this cute little saying that I like to throw out when I'm in front of a huge plate of food/dessert that really isn't good FOR me but is SO DELICIOUS. I like to say, "I work out so that I can eat like this." Lately I've still been eating the way that I do but I haven't really been working it out. I say it's because of my recent injuries to my foot.
EXCUSES!!!
True, I still do need to keep in mind my foot when I'm doing ANY kind of activity. I just cannot let that stop me from getting in a decent workout. I have been lately. It's time that I STOP!
Due to a pinky swear (yes, I still do that) with a good friend of mine, I am now going to be held accountable. I see this woman at least three times a week plus we are always in constant contact via text and other chat clients. There is NO WAY she will let me get away with missing a workout. LOVE HER!
What workouts am I referring to? Well, I have two sources for my workouts currently – Bodyrock.tv & Zuzana Light. Both resources are similar and provide home workout ideas for folks with and without equipment. I'm concentrating more on tabata and other interval workouts which is what these resources are all about. They kick my A$$. That is a GOOD thing.
What I did today:
Zuzana's ZWOW Challenge #13 with Mods | 4 Exercises | 32 Rounds of 20s On-10s Off | 16m Total
Alternating Leg Balance
Mountain Climbers
Leg Raises
Burpees with Pushup
Armed with my bottle of water, my Gymboss, and dressed in only a sports bra and panties, I did the damn thang. I looked like a total dork doing these exercises but I got it done! Not where I wanted to be physically due to me half assing it for the past few months since I found these sites. I concentrated more on my form so my numbers were way down. My foot did ok. I was more worried about it than anything. It felt fine during the workout and after during stretching. It feels kind of weird now. Not sure what that's all about but I'll see what's up with that as the day goes on.
Not a bad way to spend one's Monday, eh? I've already checked in with my Bodyrock partner. I'll be making sure she takes care of business this evening when she's done teaching her Salsa class. In the meantime, I'll be incorporating other forms of dance in addition to my Salsa since I don't feel comfortable enough to run yet. I have Beyonce's "Single Ladies" choreography set aside just for this purpose. Brilliant!
How are you guys getting it in with your workouts? I would love to hear about your journeys as well.
*Image compliments of http://www.decidetostayfit.com/blog/tag/motivation*