The first Friday of Lent is in the bag! Below you will find what I made for dinner. It turned out pretty good if I do say so myself. The tomato mixture went well with the Salmon and steamed veggies are always a hit. The red vino was an added bonus. 🙂 My choice? A bottle of Signano Chianti Colli Senesi 2001. I love my red Italian vino.
Original recipe compliments of Giada De Laurentiis.
Chef's note: I used canned diced tomatoes that had jalapenos added.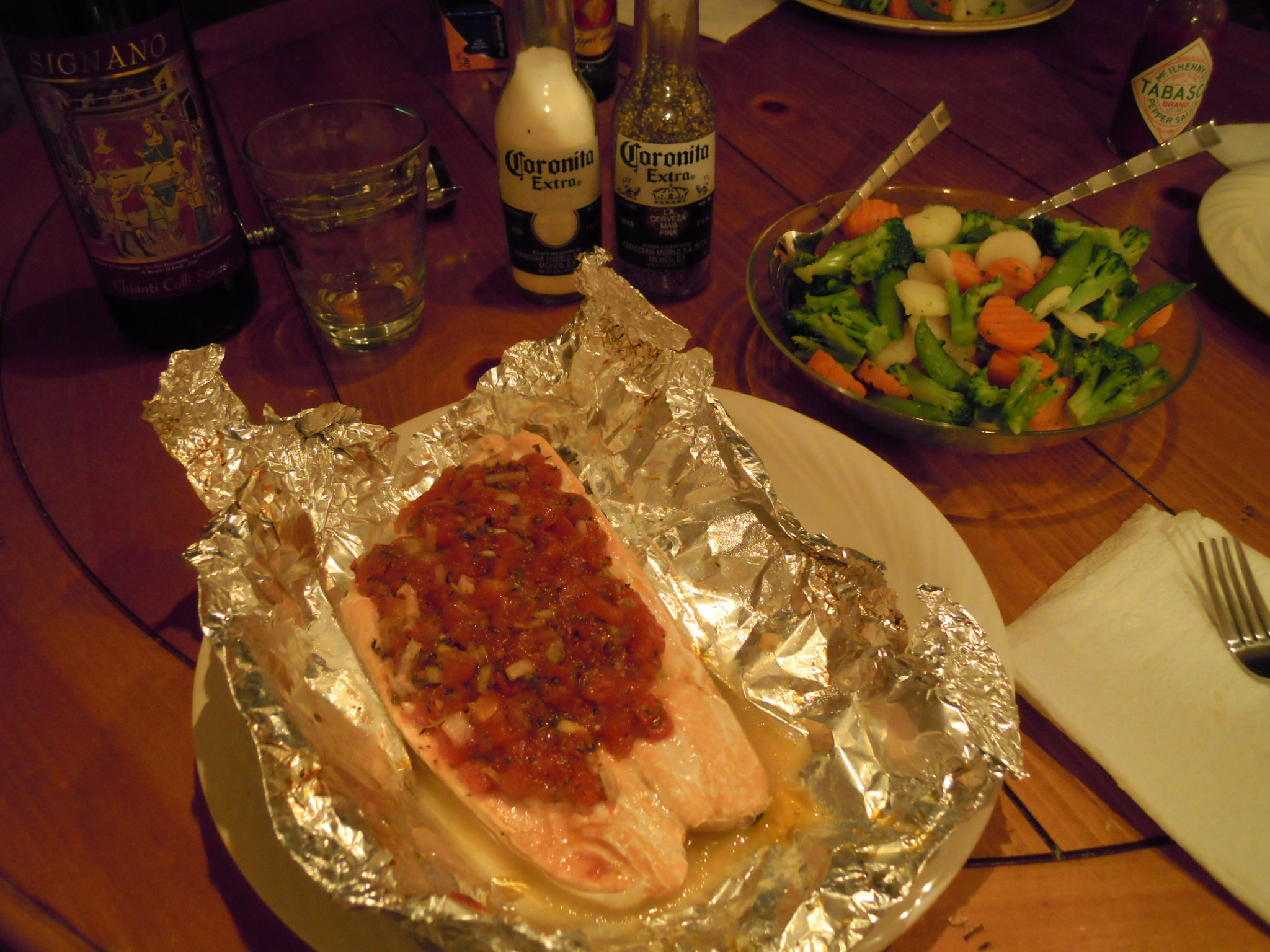 Ingredients
* 4 (5 ounces each) salmon fillets
* 2 teaspoons olive oil plus 2 tablespoons
* Salt and freshly ground black pepper
* 3 tomatoes, chopped, or 1 (14-ounce) can chopped tomatoes, drained
* 2 chopped shallots
* 2 tablespoons fresh lemon juice
* 1 teaspoon dried oregano
* 1 teaspoon dried thyme
Directions
Preheat the oven to 400 degrees F.
Sprinkle salmon with 2 teaspoons olive oil, salt, and pepper. Stir the tomatoes, shallots, 2 tablespoons of oil, lemon juice, oregano, thyme, salt and pepper in a medium bowl to blend.
Place a salmon fillet, oiled side down, atop a sheet of foil. Wrap the ends of the foil to form a spiral shape. Spoon the tomato mixture over the salmon. Fold the sides of the foil over the fish and tomato mixture, covering completely; seal the packets closed. Place the foil packet on a heavy large baking sheet. Repeat until all of the salmon have been individually wrapped in foil and placed on the baking sheet. Bake until the salmon is just cooked through, about 25 minutes. Using a large metal spatula, transfer the foil packets to plates and serve.